With a background in soil science, and experience in sampling in both agriculture and environmental science , Iain specializes in problem solving. Apart from common soil sampling equipment, we often are presented with a difficult soil sampling problem and design and manufacture equipment to provide a solution.
EXAMPLE PRODUCTS
Soil Tubes
We manufacture a range of soil sampling tubes for use in hydraulic rigs and hand driven sampling. Chrome-moly steel tubes with high tensile hardened tips produce a tough product
---
Bulk density rings and drivers
A range of B.D. ring sizes can be produced to your specification complete with drivers.
| | | | | |
| --- | --- | --- | --- | --- |
| | | | | |
| 5" BD set | | Driver fits over ring to drive below uneven soil surface etc | | Number stamped ring for permanent recording |
| | | | | |
| 2" Hardened High Tensile Bulk Density Ring | | 2" Hardened High Tensile Bulk Density Ring Set with Driver | | |
---
Adaptors
Use a variety of sampling equipment on various rigs/drivers with custom adators
---
Jackhammer sampling kits
Petrol driven percussion sampling kits provide portable solutions for intact cores.
---
Soil tube pullers
Personnel operated tube extractors of various features.
| | | |
| --- | --- | --- |
| | | |
| Ring puller for use on any length/depth collarless tubes | | |
| | | |
| | | |
| Puller using hi-lift jack and tube clamp. Any length/depth on collared or collar-less tubes | | |
---
Saturated soils/muds push tubes
Wet soils and muds are problematic to extract clean, non-contaminated intact cores. We have developed a solution to take intact cores.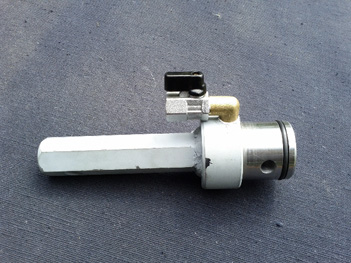 ---
Moisture probe corers
Kit for inserting neutron moisture probe (or others) in various soil types to exacting sizes for good soil-probe contact
---
Hydraulic Sampling Rigs, mounting and modification
Hydraulic sampling rigs can be built, modified and mounted to your specifications.
---
Split soil sampling tube
For sticky soils that tend to clog in traditional tubes, split tube samplers provide an alternative for fast removal. They are suitable for hand or rig use and available in any length required.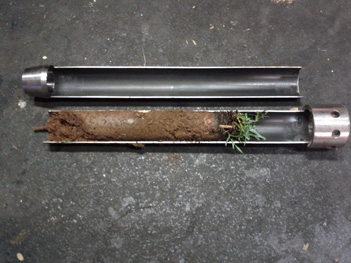 ---


100mm Soil Tubes with Heat Shrink Liner/Sleeve

Large intact soil cores extruded into heatshrink clear sleeve/liner.

Once taken from the steel tube the heat shrink can be heated allowing a tight fit around the soil core resulting in safe transportation and use of the core in the lab as whole core for physical and chemical testing/experiments.


| | |
| --- | --- |
| | |
| 4" Intact Core complete with changeable tips and shrinkable liner | 4" Tube Tip |
4" Intact Core with heat shrink sleeve